Feb. 24 - 26, 2022
 Please be aware that masks
will be required to be worn at all times.
Registration fee has been lowered to $25
for those coming from out of town.
There is a $10 fee for lunch if you are a local and want to enjoy the fellowship.
(beacuse there will be no pizza Thursday night)
Any questions and concerns can be sent to:
Please let us know that you are coming by contacting us at:
youthablazecbbc@gmail.com or txt 585-217-7915
Click here for a downloadable flyer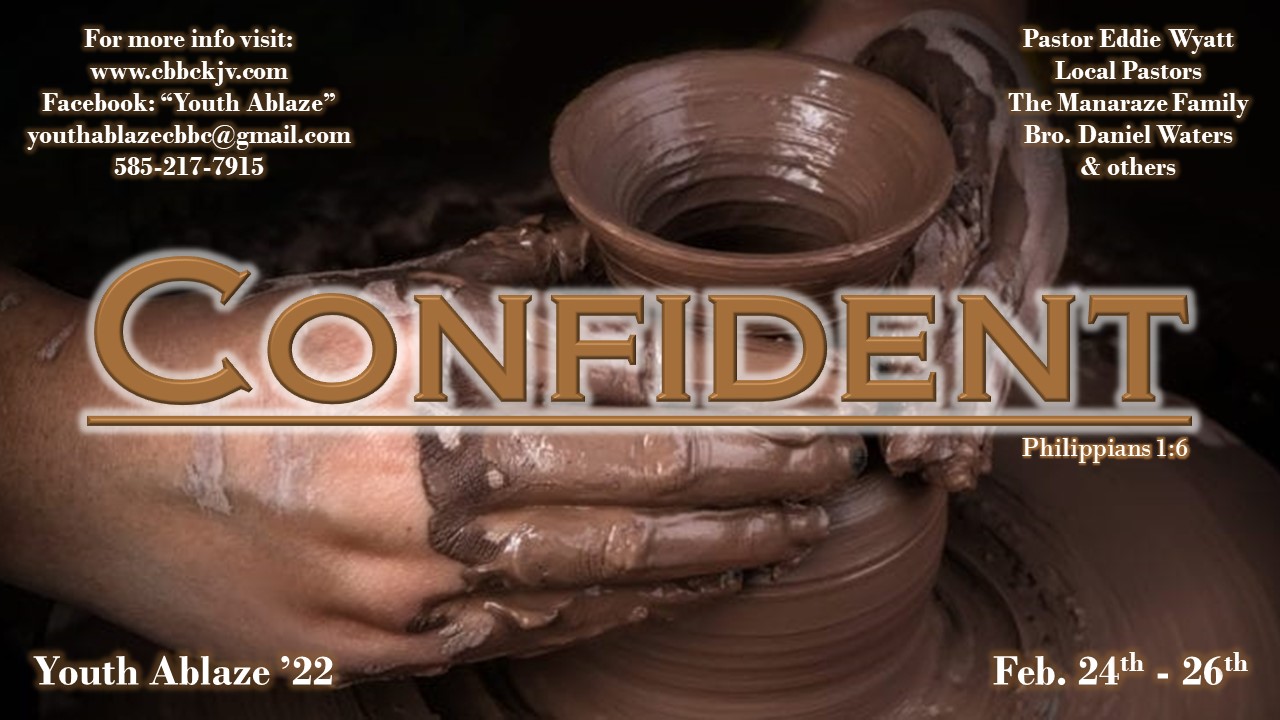 Live Streaming on Youtube
 Please be aware that masks will be required to be worn at all times.
Special Music from the Manaraze Family,
Bro. Daniel Waters, and others.
Hotel Information:
Keyword "Youth Ablaze"
Hampton Inn (Henrietta)
280 Clay Road
Rochester, NY 14623
(585) 475-1300
Cost per room: $101.46 with taxes
20 rooms
rates good until Feb. 7th
Hampton Inn (North)
500 Center Place Drive
Rochester, NY 14615
585-978-7910 ask for Alisha
Cost Per Room: $90.06 with taxes
The following rooms are still avaible:
2-King Suites
13- King rooms with Chaise Lounge
16-King Rooms with Sofa Sleeper
5-Queen
Cost Per Room: $84.36 with taxes

30 rooms
rates good until Feb. 7th
Cost Per Room:$91.20 with taxes
 Each church responsible for your own reservations and payment. Roll-aways beds are available at an extra charge. Don't forget to bring your tax exempt forms! 
Registration Fee:
Cost for out of town guest is $25.00
This Includes:
Friday All You Can Eat Buffet Lunch     
Please make checks payable to: Chili Bible Baptist Church

Location: Each service is held at the
"Cultural Life Center"
Roberts Wesleyan College Campus
2301 Westside Drive
North Chili, NY 14624
 Schedule of Services:
Thursday Night: 7pm
Friday Morning: 9 am
Friday Morning Split Sessions (men/women)
Friday Afternoon Service
Friday Night: 7 pm
(6:45 prayer meeting)
Saturday Morning: 9:00 am

Each service will have a mixture of:
Congregation singing, Youth Choir Specials, Bible Questions & Sword Drills,
Flash Point (one minute preaching), Dy-note-mites (name that hymn) and some great preaching from local Youth Pastors and Pastors, Bro. Eddie Wyatt & our mystery preacher.



Please Note!
Everyone and anyone is welcome to attend Youth Ablaze. 
We do not offer nurseries so please plan accordingly
MASKS WILL BE REQUIRED TO BE WORN AT ALL TIMES